Why are Braided Area Rugs the Perfect Choice for Your Casual Living Spaces?
When it comes to creating a cozy and inviting atmosphere in your cabin or casual cottage style interiors and exteriors, choosing the right area rugs is essential. And what could be better than braided area rugs? These versatile rugs not only add warmth and comfort to your living spaces but also elevate the overall aesthetic. Let's explore why braided area rugs are the perfect choice for your casual living spaces.
1. Timeless Charm and Durability
Braided area rugs have a timeless charm that never goes out of style. Their classic design and intricate braided patterns instantly add character to any room. Moreover, these rugs are known for their exceptional durability. Made from high-quality materials, braided rugs can withstand heavy foot traffic and last for years to come.
2. Versatile Colors and Patterns
One of the best things about braided area rugs is the wide range of colors and patterns available. Whether you prefer earthy tones to complement your rustic cabin or vibrant hues to add a pop of color to your casual cottage, there's a braided rug that suits your style. You can choose from solid colors, multi-colors, or even patterned designs to match your existing decor.
3. Softness and Comfort
Comfort is key when it comes to creating a cozy living space. Our chenille braided area rugs offer a soft and plush surface underfoot, making them perfect for lounging and relaxing. Whether you're curling up with a book by the fireplace or enjoying a movie night with your loved ones, these rugs provide the ultimate comfort.
4. Easy Maintenance
Keeping your living spaces clean shouldn't be a hassle, especially in a cabin or cottage. Luckily, braided area rugs are easy to maintain. Regular vacuuming and occasional spot cleaning are usually enough to keep them looking fresh and vibrant. Additionally, the options available in polypropylene yarns make them resistant to stains and spills, making your life easier.
5. Seamless Indoor-Outdoor Transition
If you have a cabin with outdoor living spaces, braided area rugs are the perfect choice for creating a seamless transition between your indoor and outdoor areas. These rugs are designed to withstand outdoor elements, making them suitable for patios, porches, and decks. By adding braided rugs to your outdoor spaces, you can create a cohesive and inviting atmosphere.
6. Customization and Personalization
Every living space is unique, and your area rugs should reflect your personal style. With braided area rugs, you have the option to customize and personalize your rugs. Whether you want a specific sewing pattern, size, or shape, we offer these customization services. This allows you to create a truly one-of-a-kind rug that perfectly fits your cabin or cottage style.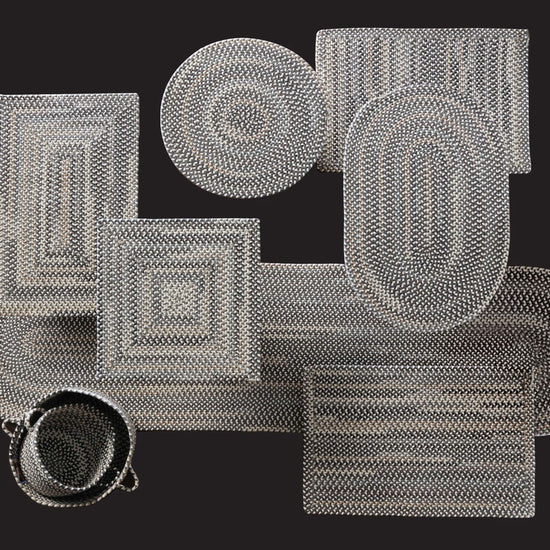 Conclusion
When it comes to choosing the perfect area rugs for your cabin or casual cottage style interiors and exteriors, braided rugs are the ultimate choice. Their timeless charm, durability, versatility, comfort, easy maintenance, seamless indoor-outdoor transition, and customization options make them a top-notch option. Elevate your casual living spaces with braided area rugs and enjoy the cozy and inviting atmosphere they bring.